It is not a rare occurrence to see an opinion that the key to attracting the viewer interest lies in standalone players and personalities. The replacement of Faker in the main roster of T1 is one of the latest topics in this vein. Let's try to see how this affected the viewability of team's matches.
Lee Sang-hyeok, better known by his "Faker" nickname, is indeed a legendary personality in the League of Legends world. He is one of the few players to score not one but three World Championship victories. Meanwhile, the 4 million viewers record set in the match versus G2 Esports further cemented the status of T1 team and the player himself.
Because of this, the absence of the mid laner in the starting roster was quite disappointing to many. T1 played the last four games without Sang-hyeok, who was replaced by the young and little-known Clozer. However, it should be noted that each of these games still ended with the victory of T1.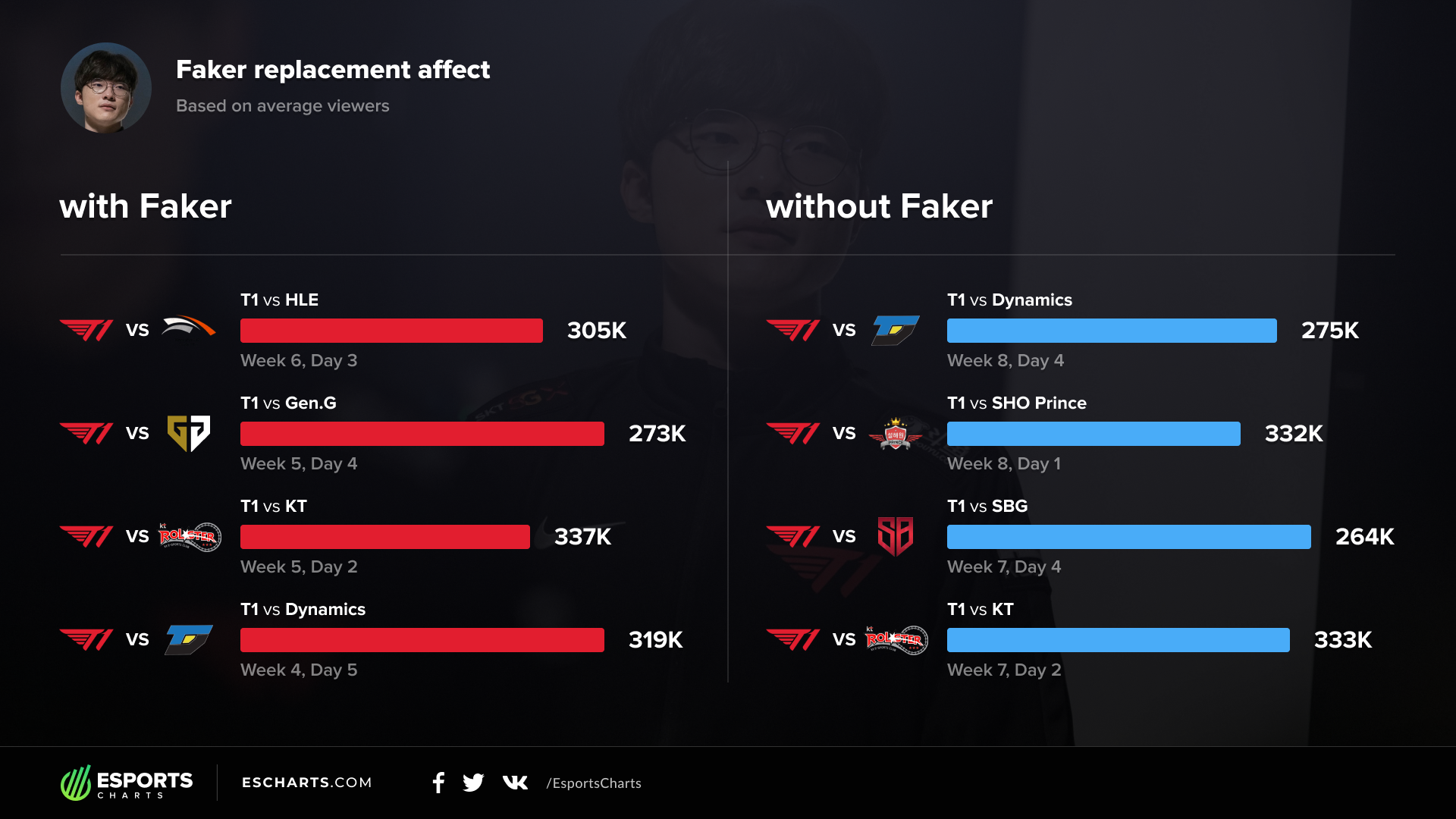 Overall, the situation regarding this particular topic is ambiguous. No significant negative impact was seen when comparing the average viewers results. The difference between the last four matches with Faker's participation and the four matches with his absence seems to be largely within the margin of error.
The situation regarding the peak viewers mark is slightly different: the first match versus Dynamics has resulted in setting a record of summer split worth of 584 thousand viewers – as compared to the 401 thousand viewers of the subsequent "revenge match" that took place without Faker. The airtime was an extremely interesting indicator, considering that after swapping the player each of the team's matches became 50 minutes shorter on average.
This leads to a rather straightforward conclusion: despite the popular opinion, the fans of T1 tend to follow the team itself instead of following one particular player. We will have a more clear picture after conclusion of the LCK summer split.
Additionally, it is important to understand that this is not the first case when a legendary mid laner has been left out. Few years ago, SK Telecom T1 already tried the "mid laner swap" tactic. This caused Sang-hyeok to miss the entire finals of the split – although that didn't stop the Korean from becoming the most popular out of all regions.
Use our Discord server to voice your opinion on this topic. Also, do not forget to subscribe to the official VK, Twitter and Facebook pages.