Recently CD Projekt Red has presented the final episode of Night City Wire - a show about Cyberpunk 2077. Today we will analyze how long the viewers' interest lasted since part 1.
Night City Wire drew a lot of attention to the project since the beginning, considering that this is the most anticipated game of the year. The first episode caused a furor among game showcases. CD Projekt RED showed us the game world's immensity, and the broadcast gathered 865K viewers.
The second show was dedicated to the hero's background and in-game weapons. But the episode didn't get the viewers' attention and experienced a decrease by Hours Watched - 58%. Moreover, Peak Viewers dropped by 57%. So this is the worst result of the series.
After the second show, the Hours Watched dynamics became positive, and the final episode got the second position in the list. But still, the gap in Hours Watched between the first and fifth episode is huge - 46%.
Overall Hours Watched number concluded 1,4M. In terms of percentage, all the episodes, except the first, have made almost equal contributions in the final number.
The situation by Peak Viewers is quite different - the third episode broke through and collected 392K fans, but it couldn't overtake the launch episode anyway.
We've also compared the dynamics of the viewers' peak on two official channels for Night City Wire broadcasts - CD Projekt RED and TwitchGaming.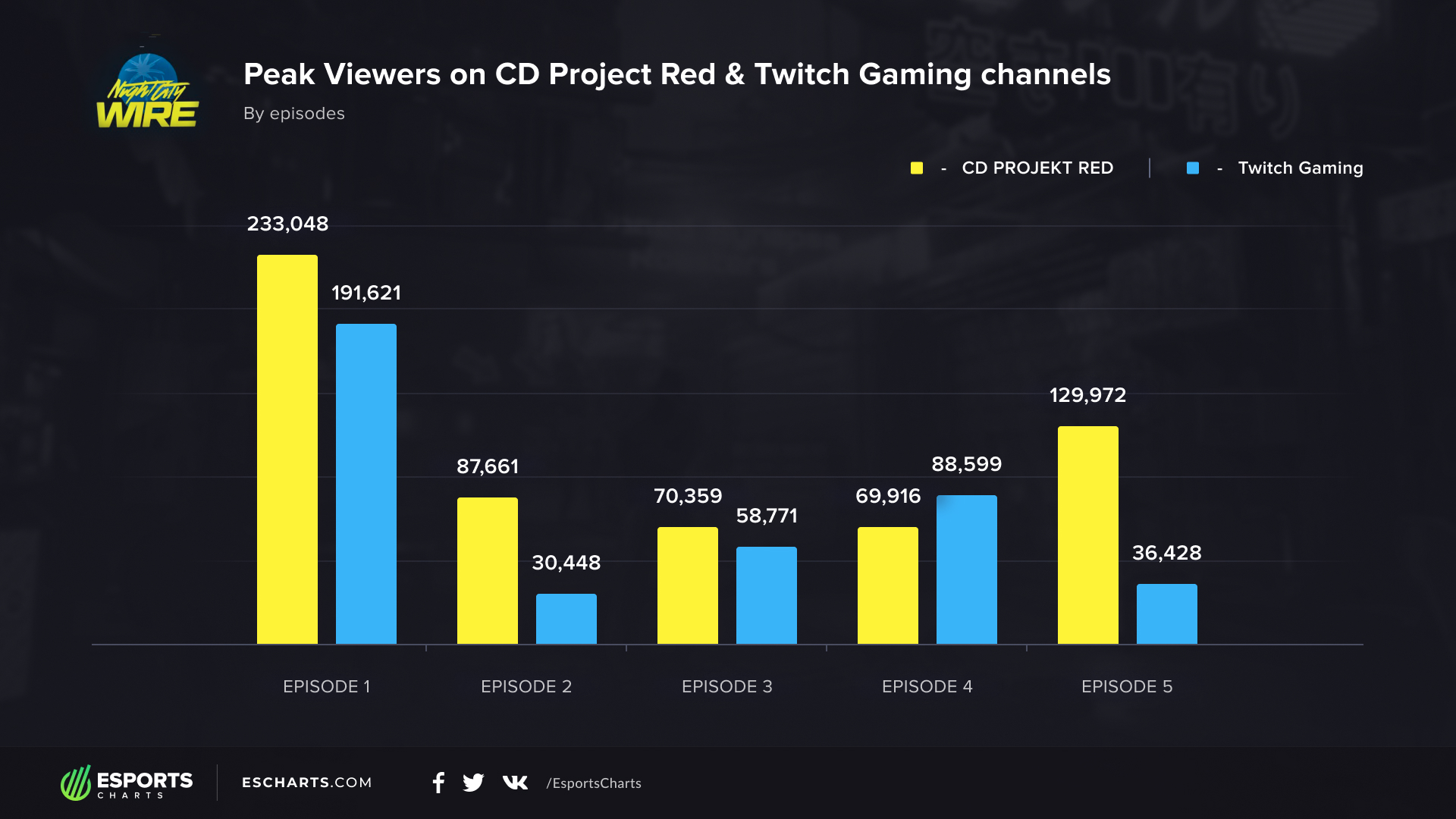 As we can see on the charts, most of the time, the viewers preferred to watch broadcasts on the developers' channel. Only on the 4th episode, TwitchGaming took the lead and gathered 26% more viewers, but on the final show, the channel showed one of the worst results, and the difference with the Poles was 71%.
We also analyzed the audience of Night City Wire showcases. CD Projekt RED provided translations for their broadcasts, so the language barrier was not a problem for the viewers. Obviously, English became the most popular language - 68% of the contribution to Hours Watched.
The Russian language has made a 5,8% contribution to Hours Watched, and the viewers preferred to follow the adventures in Night City on Welovegames channel - 25K.
Among community streamers, the viewers stayed at Cohhcarnage's broadcast the longest - 26K viewers on average.
The final release date has been postponed several times because the developers want to bring everything to perfection. The expectations of the game community are so high that it is difficult to predict the reaction to the game after the release. But there are only two options: either the game will blossom out, or it will be a complete failure in the background of such a strong hype.
This dilemma will be solved on December 10. Subscribe to our social networks in order not to miss all the up-to-date statistics.