A lot has been said regarding if and when Rocket League is going to take off as a top tier esports title, especially since Fortnite creator Epic Games acquired Rocket League's publisher Psyonix in May 2019.
And rightfully so, considering the game's enormous, yet still unfulfilled potential to become a full-blown esport and even penetrate the mainstream. There's arguably no esport that's easier to understand while effectively maintaining the excitement of both — players and spectators — throughout the whole match.
The game's simple structure mirrors a traditional football match, except with rocket-boosted cars instead of footballers. There are no special abilities and there's no such thing as map knowledge. Just cars, two nets and a ball. Moreover, it's the source of some of the most dazzling, skill-expressive esports highlights.
Acquisition by Epic Games and tournament structure changes
A year after the acquisition, Psyonix introduced massive changes to the Rocket League Championship Series (RLCS) tournament structure, which, on the expectations of many, were supposed to push the Rocket League towards its bright future.
Instead of having one round of league play followed by regional playoffs and world championships twice a year, as it has been until last year, RLCS season X has spread out to become a yearlong event consisting of three regional splits — fall, winter and spring.
Each split featured three standalone regional tournaments for North America, Europe and Oceania, while South America followed a slightly different format consisting of two phases. All splits culminated into regional majors, which would have been followed by international finals had the global health situation allowed. Instead, four regional Championship events were held from June 15th to 20th, with 16 top Rocket League teams fighting for their share of the $1 million prize pool.
Have the major changes to the tournament structure pushed Rocket League closer to becoming a top tier esport title? Has it impacted the popularity of the title in any way at all? In this article, we are going to take a look at the viewership statistics of each of the recent RLCS X regional Championships, compare them with each other, as well as with previous RLCS events, to see what is the current trend regarding the game's popularity.
RLCS Season X North American Championship
The North American Championship has seen the highest volume of spectators, reaching over 192K Peak Viewers and 136K Average Viewers. That's not a surprise by any means, considering that the popularity of the title is prevalent particularly in the US and also that the region is represented by the highest number of professional Rocket League athletes in the world, according to eSports Flag.
The RLCS X NA Championship was broadcasted for 15 hours and during this time, it gathered over 2M Hours Watched.
The viewership peak was hit during the grand final match between The General NRG and SpaceStation Gaming won by NRG, who rose from the lower bracket and swept SSG 4-2, 4-1. The new NA champions also became the most popular team of the tournament with 154K Average Viewers. SSG were just behind with 141K AV, followed by Team EnVyUs (140K AV), G2 Esports (139K AV) and Rogue (125K AV).
RLCS Season X European Championship
The viewership results of the European final were only slightly lower than NA's numbers.
During the same amount of Air Time, the event marked 1.6M Hours Watched by 109K viewers on average.
Just like in the previous case, the European championship also peaked during its grand final match, this time between Team Vitality and Team BDS. The conclusive match attracted 178K concurrent viewers and presumably shocked the European Rocket League scene with its result. Team BDS — the favourites of the tournament who managed to claim the European Fall, Winter and Spring Majors throughout the season — lost to Team Vitality 4-0, 4-2.
Team BDS and Team Vitality were also the most spectated teams of the tournament, with 143K and 137K Average Viewers, respectively. The top five of the most popular European teams is completed by Top Blokes (123K AV), Guild Esports (112K AV) and Team Queso (110K AV).
RLCS Season X South American Championship
Because the Rocket League esports scene is not as developed in South America and Oceania as it is in the EU and NA, the viewership statistics of these two regional events are naturally lower. However, the significant difference in viewership results was caused mainly by the fact that SA and OCE events only featured two top teams from their respective regions fighting in the span of one day, as opposed to six teams in the EU and NA week-long competitions.
The RLCS X South American Championship featured a single best-of-three series consisting of best-of-seven matches between True Neutral and FURIA Esports.
In 4 hours of Air Time, the event marked 330K Hours Watched and peaked at 109K concurrent viewers. On average, 94K viewers tuned in to spectate the SA competition won by True Neutral — the Argentinian organisation that entered Rocket League esports in February 2020 after acquiring the AION squad and dominated the region ever since.
Because the competition featured only two teams in each of the matches, both squads reached the same stats — 98K Average Viewers.
RLCS Season X Oceanic Championship
In a format similar to the South American event, the RLCS X Oceanic Championship featured a battle between Australian teams Ground Zero Gaming and Cringe Society.
The Oceanic competition was watched by 60K Average Viewers, who brought over 220K Hours Watched. At its peak, almost 75.9K concurrent viewers spectated the action.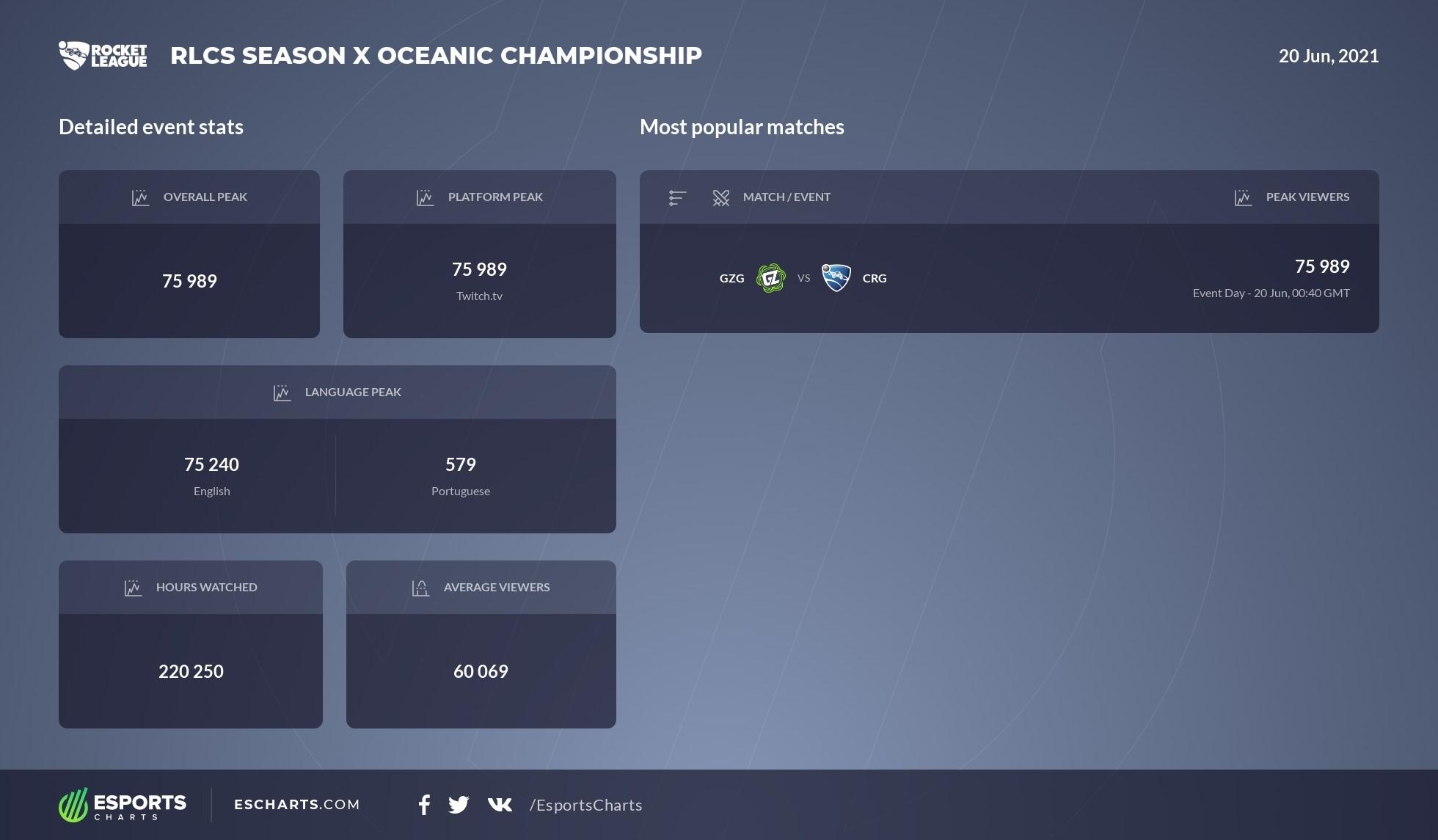 Ground Zero, the region's top seed, ended up defeating Cringe Society in a dominant fashion. The organisation went through a series of roster changes during 2020, which proved to be a good thing for the team, as they have won the majority of matches they have since played. The average viewer count of both teams was60.9K AV.
Is Rocket League growing?
Compared to Fall, Winter and Spring regional Majors, the viewership results of season-conclusive Championship events haven't shown any significant improvement.
In fact, the beginning of the season saw slightly higher numbers in all regions except Oceania, which is the only region showing a positive trend — 48.35% increase in Peak Viewers compared to RLCS Season X Fall Oceanic Major. The trend for the rest of the regions remained more or less consistent during Season X, with Peak Viewers counts comparable to previous regional Majors.
However, If compared with the results of the RLCS Season 9 regional finals, which were originally supposed to take place as a single World Championship in Dallas, there's much more interesting development visible, showing growth in all regions except Europe.
The RLCS Season 9: Europe marked a notable 261K Peak Viewers, which indicates a 31.8% decrease in viewership, compared to the recent EU final. The South American region, on the other hand, has seen a sharp increase of 84.98% in PV since RLCS Season 9 - South America: Grand Series. North America and Oceania show slower growth - 10.94% and 53.9% increase in PV, respectively.
Based on the data shown above, the interannual growth of RLCS viewership is present and notable especially in South America and Oceania — the regions with less developed esports ecosystems than NA or EU. It might be too soon to tell if Rocket League is heading towards the shiny future of a top-tier esport title — a development desired by many, yet it is safe to claim that after the acquisition by Epic Games and the follow-up introduction of tournament structure changes, the game started significantly growing in popularity, as its overall viewer count over time graph also demonstrates.
Want to know more? Contact us at [email protected] with any question or request, and we will respond as soon as possible.