Today our article is fully dedicated to the Russian-speaking region. Whom and what do viewers watch in Russia, Ukraine, Belarus and Kazakhstan? We've analyzed the TOP-100 CIS streamers to answer this question.
The TOP-100 CIS by Hours Watched included 79 Russian, 17 Ukrainian, 3 Belarusian and 1 Kazakh channel. In total, they've spent 47K hours online at the platform in the third quarter of 2020.
The overall number of Hours Watched concluded 134 million. 71,9% of this number was contributed by men, 3,4% from women, and 24,6% from studios.
We've analyzed which categories are the most popular for each gender and found out that Just Chatting is our leader. Though men's Hours Watched concluded 26% in this category and for women its 79%. Moreover, the girls spent 77% of their Air Time "chatting" with their viewers.
Their other categories in top-5 by Hours Watched slightly differ. Men prefer competitive games like Dota 2 and CS:GO. Valve's MOBA even overtook Just Chatting by Air Time - 9,1K Hours versus 7,7K in Q3 of 2020.
GTA V and Among Us occurred in the female top. However, girls dedicated a minimal amount of time to these categories - only 1,98% and 4,5% of total Air Time.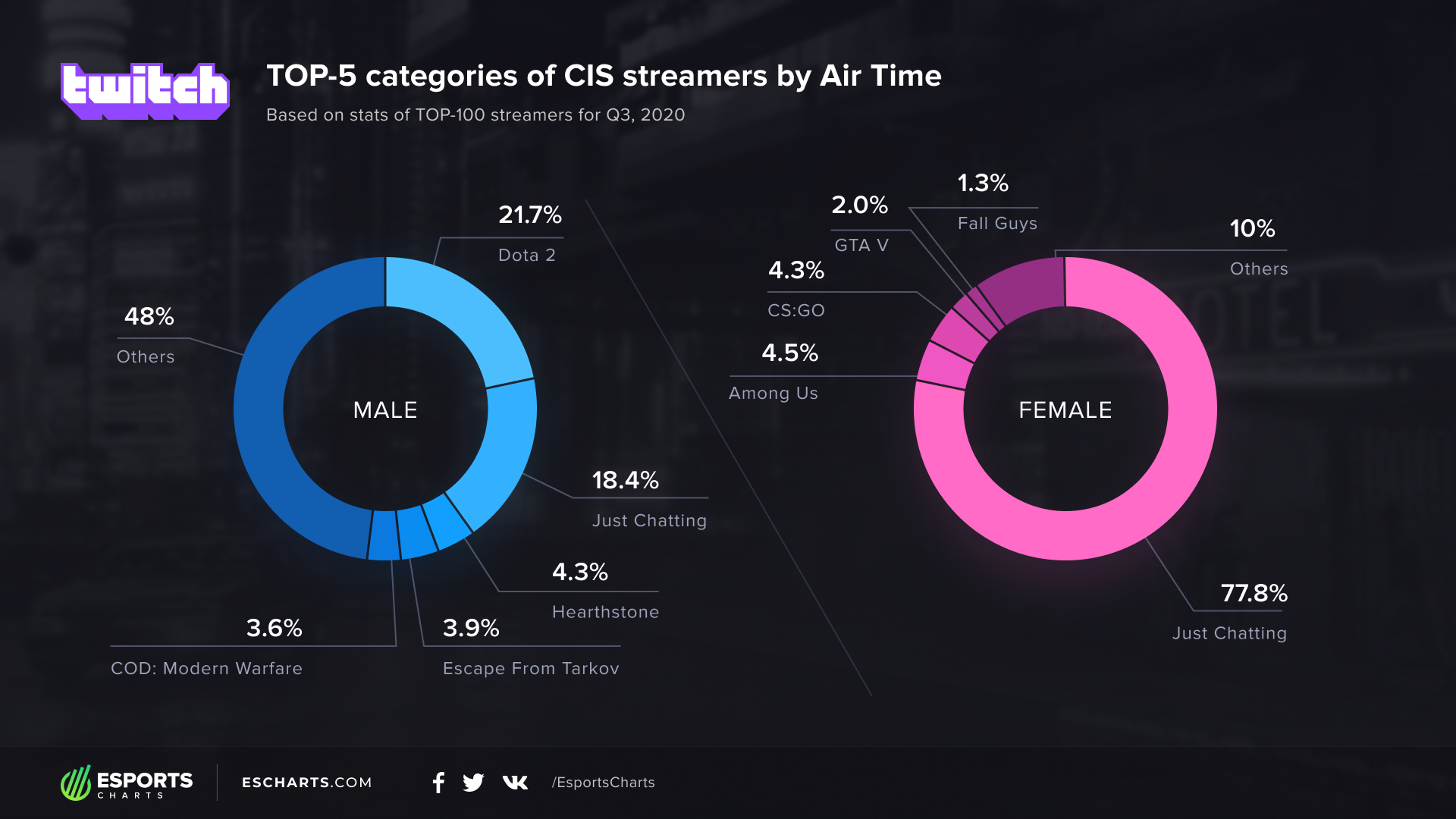 Regarding the studios, the most popular category in CIS is Dota 2, with 18,7M Hours Watched and 1,8K hours of Air Time. CS:GO is in the second position - 9,5M Hours Watched, though it didn't enter the top- disciplines by Male Air Time.
Interestingly, League of Legends, one of the most popular categories in the American and European regions, didn't appear in the Russian streamers' TOP-5. However, it takes 3rd place in the studios' ranking - 3,9M Hours Watched.
The channels of Maincast and RuHub are leading among all CIS organizers. Dota2RuHub is #1 by Hours Watched and subscribers - 14,8M and 824K.
csgomc_ru has 640K subscribers and leads by Peak Viewers - 134K.
Who is the male leader?
Vladislav "SilverName" Sinotov, a professional Hearthstone player, has got first place on our list. HS concluded 82% of his total Hours Watched, and he streamed the longest in the third quarter - 510 hours.
Vladislav does not play competitive games often, so his other popular categories are GTA V, Skyrim and Just Chatting.
The second spot is occupied by Vadim "Evelone192" Kozakov. He could have become the leader in the ranking, but he was banned for one month and that did not allow him to overtake SilverName.
Vadim likes to play Mafia with other streamers and famous esports personalities, so Just Chatting is his #1 category.
If we define top streamers by Peak Viewers, then Evelone192 will be a leader with the result of 70K Peak Viewers. Sadly, SilverName did not even get into this selection.
The most popular streamer by the number of subscribers was Vyacheslav "Buster" Leontiev - 1 387 650 people. Bratishkinoff is the closest to Buster by subs. At the time of writing, he lacked only 33 thousand to overtake his rival.
Fedor "HGmony" occupies the first line of the rating among the Belarusian streamers. He mainly streams Dota 2, and for the 3rd quarter of 2020, he reached 919K Hours Watched in this MOBA. Besides, Fedor leads among all streamers on Twitch in the "Virtual Casino" category with 548K Hours Watched.
From the Kazakh streamers, only Stanislav "Chistor" got in the top 100, but now he lives in Russia. He dedicates almost all his time to the Path of Exile. Moreover, he leads among Russian-speaking streamers in this category and also entered the top-10 PoE streamers of the entire platform. For the 3rd quarter, PoE brought him 616K Hours Watched.
Who is the Russian queen of streaming?
Dinablin from Russia can take the crown. She interacts with her audience via Just Chatting, and specializes in such entertainment shows as "Mafia," "Streamlove," and "Guess the melody". She also tried to identify impostors in Among Us, and her Hours Watched in this category concluded 22% of the overall number.
The peak of Dinablin's spectators in Q3 reached the mark of 30 thousand, but she's only in 4th place by subscribers - 361K.
Since there were only six girls in the TOP-100, it was interesting to know how their audience intersects.
The audiences of Gensyxa and Ekatze007 intersect the most - 68% of Ekatze's audience watches Gensyxa's steams. The lowest percentage of intersection among girls has Yulia "By_owl" Ivleva.
Interesting fact: Just Chatting is the #1 category for all these ladies. Counter-Strike can be seen in the second position. That's why. can assume that boys have more variety regarding categories and content.
Do you want to become a PRO in the streaming but can't define your development strategy and your competitors? Our new analytical service Streams Charts will solve all problems of streaming beginners and large content makers.