LoL Worlds 2020 Finals set a new record among all the final matches in League of Legends once again. At its peak, over 3.8 million concurrent viewers were watching the battle between DAMWON and Suning.
After a long and very intense battle, DAMWON Gaming has defeated their opponents, thus becoming the 2020 World champions! Apart from the Summoner's Cup, the team will receive 25% of the total prize pool, i.e. combined amount of the initial prize pool with the sales of the World Champion skins. The exact number will be known only after the completion of the sales.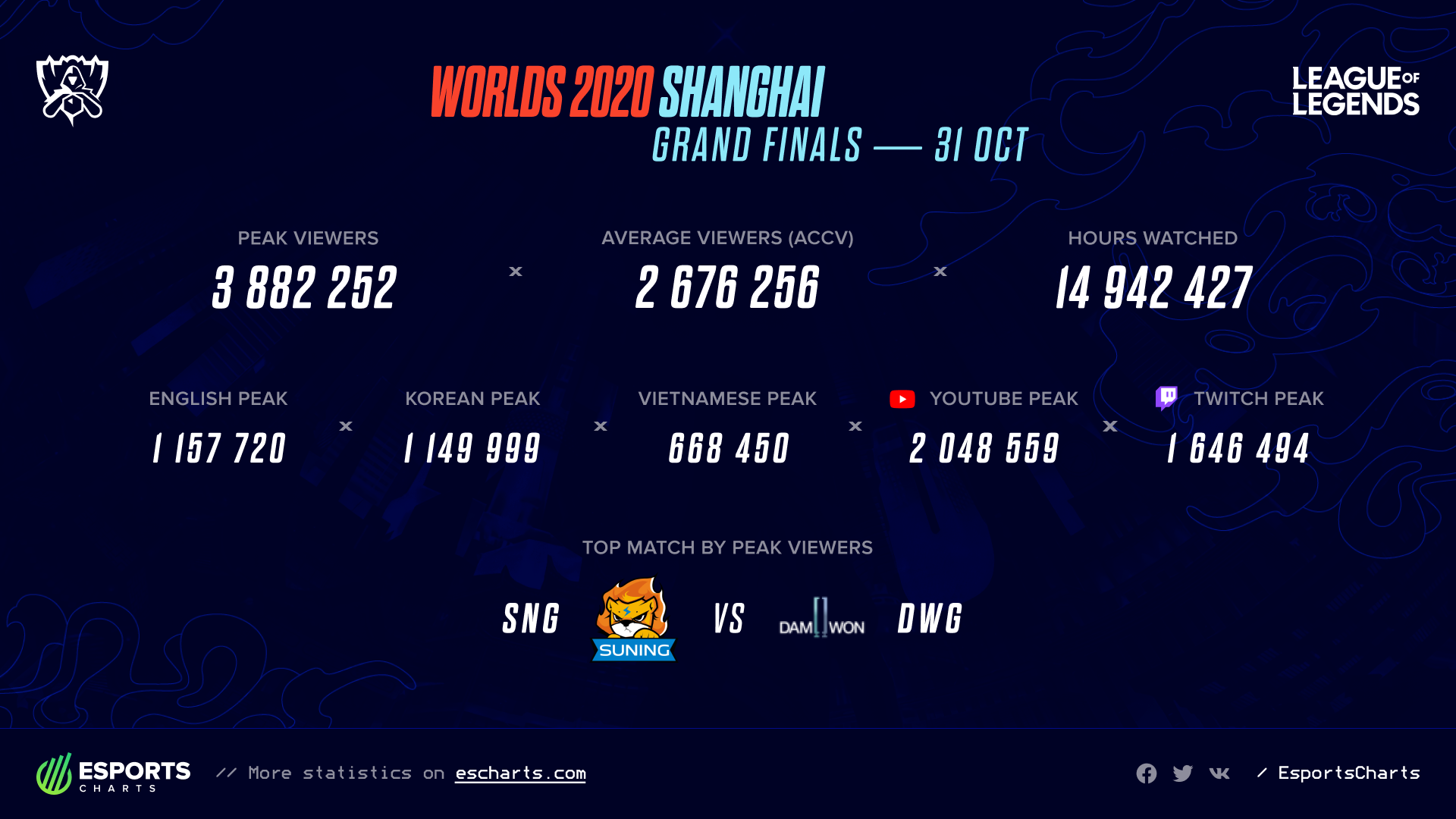 It's worth mentioning that the total prize pool of Worlds 2019 remains a mystery to this day, Riot has only announced the initial prize pool - 2.2 million dollars.
The battle for the game's ultimate title lasted for four maps and 5 hours of broadcast time. Game 3 became the most popular one, with 3.8 million viewers at its peak, breaking 2019's finals' viewer records by 4.9%, and falling short of only 103K viewers (4%) in comparison with the most-viewed Worlds match - G2 vs. SKT.
English-speaking LoL Worlds 2020 broadcast reached a peak of 1 million 157 thousand viewers. In comparison with the previous Finals that is a 13,6% drop. Even so, English-speaking broadcast remains the most popular one.
Korean-speaking broadcast reached 1 million 148K viewers at its peak, falling just short of 8 thousand viewers to surpass the English-speaking one. Despite this, it's the best result for Korean broadcast in the history of LoL, breaking the previous record (1 million 125K viewers) by 2%.
The Vietnamese broadcast really surprised everyone this time. 668 thousand viewers were watching the broadcast at its peak and rooting for Vietnamese player SofM from Suning. Not only is it the best result for the Vietnamese broadcast in the history of LoL, it's also the main reason for why it has surpassed both English and Korean broadcasts on YouTube.
Based on the Finals we can state that this time Twitch has lost the popularity rivalry to its main competitor - YouTube. YouTube peaked at 2 million viewers, while the peak number of concurrent viewers on Twitch was only 1.6 million, a difference of almost 24%.
At the same time, LoL has broken a new record on Twitch with 2 million concurrent viewers. Needless to say, some viewers were just watching their favorite streamers, and not focusing on the tournament.
We will release our full in-depth analysis of the LoL World Championship 2020. If you do not want to miss the upcoming articles, be sure to subscribe to our social network pages, and don't forget to share your opinions on our Discord-server!