Vision Strikers organization was founded in July 2020, and they've reached total domination on the VALORANT pro scene for only six months.
One of the secrets of Vision Strikers' success is their esports background, as the team is the disbanded roster of CS:GO team MVP PK. The squad decided to leave CS:GO pro-scene and try themselves in the new project by Riot Games.
We've talked with the team's CEO, Can Yang, and found out the main reason why VALORANT was chosen as the main discipline.
Our team has a solid experience in FPS gaming. Moreover, the former MVP PK roster and company's management saw a big potential in the new project by Riot Games. We've realized that we have all chances to dominate in this discipline. We could try ourselves in League of Legends, as it's more popular in South Korea, but with popularity grows the roster's cost.
As a result, Vision Strikers became the first South Korean professional VALORANT roster, which was like a hurricane for their rivalsю They haven't lost any match out of 60 on different tournaments. Such dominance makes them the strongest team in the Asian region.
It's difficult to determine the most powerful VALORANT region in pandemic realness because there were no international competitions. That's why it will be interesting to see if Vision Strikers could continue their domination on the worldwide scene.
The team has shown itself in the best light on A.W EXTREME MASTERS ASIA Invitational, and four of their matches at the tournament became the most popular in the history of the team by Peak Viewers.
The battle with Japanese Absolute JUPITER in the playoffs became the most popularч - 44K Peak Viewers. Such a result was achieved primarily because of Absolute JUPITER's media presence in their native region, as they are one of the most famous Japanese VALORANT rosters.
The matches of Vision Strikers with other Japanese teams led to the situation that Japanese-speaking viewers concluded the biggest part of their audience - 61,7% Hours Watched. We should note that this occurs only at the matches with Japanese teams. After their end, Japanese fans stop watching Vision Strikers' battles.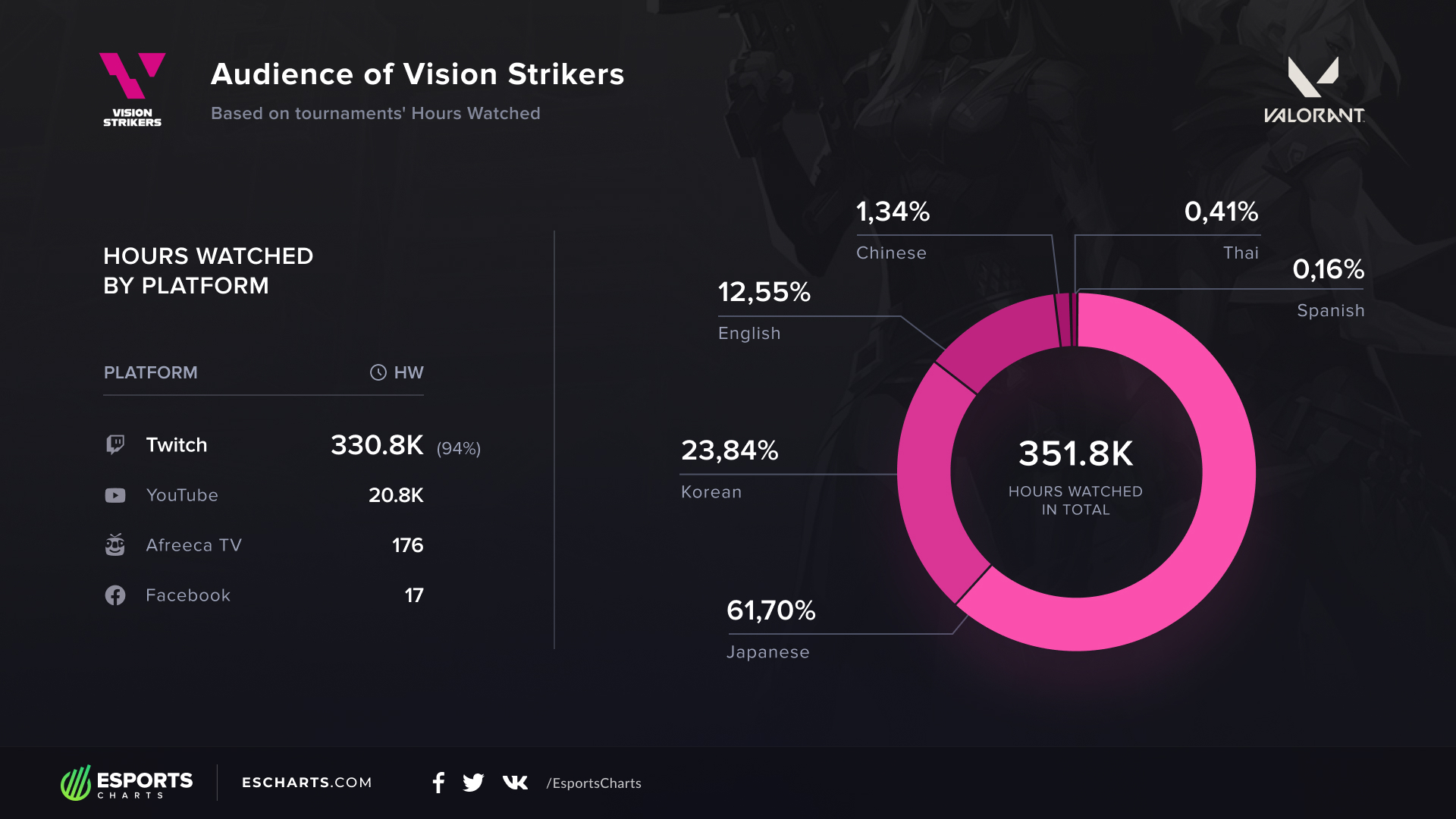 Korean audience contributed 23,8% to the overall Hours Watched number. This percentage could have been higher, but there's a nuance that organizers often don't provide official broadcasts in Korean, so they must watch English-speaking streams.
Among platforms, viewers preferred to watch Vision Strikers' fights on Twitch the most - 94% Hours Watched. YouTube appeared in second place, but, interestingly, the Korean platform AfreecaTV got only 176 Hours Watched.
Vision Strikers were officially found on July 7, and only after ten days they expanded their amount of rosters - Quantum Strikers became the second team of the organization. Moreover, Efina from the original roster transferred there. Their first win was achieved at Clan Battle Act 2 #4.
We could see Vision Strikers and Quantum Strikers again at First Strike Korea - Closed Qualifier, which will be held from 12 to November 22.
Don't forget to subscribe to our socials to know all up-to-date esports stats.