Original paper written in Russian by Arthur Avakian can be found here
July 22 the entire world discovered that Mixer is shutting down and becoming a part of Facebook Gaming. For the last month, total of almost 540K streamers were broadcasting on their channels. But only 8000 streamers had more than 4 concurrent viewers on their channels. Through this tweet, they found out that they are jobless.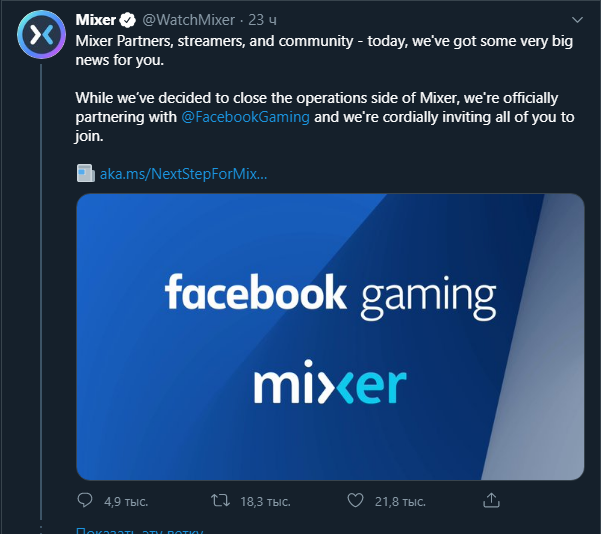 The announcement of Mixer's closure and partnership with Facebook Gaming, which implies the switch to the new platform.
Microsoft realized that the they don't have enough time and effort required to develop the streamer community to a size that would satisfy their vision of future projects.
So they decided to close Mixer and help everyone with the switch to Facebook Gaming. It should be noted that the developers of Mixer and their technological innovations will merge into Facebook Gaming. The Mixer itself will redirect the audience to Facebook, and it's clear that this is not just a new friendly harbor for streamers, but a standard "user buyback" when streamers' contracts are repurchased.
According to the words of Phil Spencer, we can conclude that all those who will be silent about their switch will simply be handed over to the new owner.
Judging by the reactions on Twitter and Mixer broadcasts, you can see that not everyone appreciated the transition to another platform.
Community is buzzing, the streamers are crying and many believe that their activities have been irreparably damaged. Others are gloating, prying, or expressing compassion.
Of course, it's all very frustrating, as the streaming world has become less diverse.
Fewer alternative platforms for streamers -> weaker their negotiating position -> fewer opportunities to defend their interests.
I am not sure that Twitch will interfere in the business of its partners because of this situation, but there is one reason less to solve the accumulated problems.
Generally speaking, all those streamers who signed contracts with Twitch, Mixer, and YouTube Gaming should be grateful to Ninja and his visionary in this situation.
Big money has entered this industry. Firstly I thought that the info about the contracts was exaggerated. That the actual price is relatively low. Judging by the results of Shroud and Ninja on Mixer, we can assume that their assets were overpaid.
At the same time, you read the info (confirmed by no one) from the insiders that Shroud and Ninja rejected the offer with double payment for the switch to Facebook Gaming.
They insisted on the buyout of their Mixer contracts and, based on the rumors, they've earned ~$30M and ~$10M accordingly and now they're free agents under the wing of Loaded agency. Now it's clear that some companies are ready to pay such amount of money. Though, looking at this chart, we can say that they did their job properly.
In April, for example, Ninja was streaming for 451 hours without weekends. The funniest thing in this story is that allegedly Shroud has signed the contract with Mixer for 3 years, but he streamed only for 9 months, received the main part of the money, and now he, most likely, will return on Twitch (The audience likes him there).
But Ninja, I think, will go on YouTube. He has 23,7М+ subscribers there and no painful breakup story, like on Twitch.
Let me remind you that after the announcement Twitch immediately dismissed Ninja's partner status, then deleted his channel, restored it, and rehosted other streamers. And the icing on the cake, the moment with porn on Ninja's channel for several hours :D
Facebook Gaming, on its part, provides a whole range of opportunities for Mixer partners, the benefits of which are of course not very clear to anyone. Yes, partnership, yes, support. But it seems that Twitch is preparing to do the same. If people wanted to stream on Facebook, they would not stream on Mixer. But maybe a check of $2500 for every Mixer partner, who'll sign a contract with the new owner and stay there for at least 90 days, will do its job.
Vivek Sharma (head of FG) reassures us with the phrase:
"We didn't buy Mixer, simply giving an option for streamers to join if they wish."
Let's see what happens!
Mixer, despite the Microsoft investments, was bought out by Facebook for example as Groove Music subscribers were merged into Spotify. A clear business solution. As the result, they've found a partner who dealt with all the horror of onboarding and subsequent transaction delays. It turned out to be much more successful than of his less popular competitor, who made a good try on a collaborative project of the future - xCloud.
It's a cloud streaming service that allows you to stream Xbox games to your phone and tablet using your Bluetooth controller. I'm not sure, but it seemed like a global idea that you could watch someone's stream and then, just in one touch, use xCloud to continue playing the game from the same place which was on the stream, but by yourself. Sounds great, the enormous base of Facebook gamers will help the service succeed. Moreover, you can launch the game by simply clicking on the game advertisement in your feed.
The critique of Mixer:
Certainly, when the entire market is growing much faster than planned, it is necessary to analyze the situation.
According to Esports Charts data, Twitch grew by 79,93% from February to May (from 956M Hours Watched to 1,7B), while Facebook Gaming, which finished its beta stage in April, grew by 99,6% (from 44,7M Hours Watched to 89,2M). Mixer increased its viewership only by 53,56% (from 27,9M Hours Watched to 42,9M).
Thus, during the same period, Twitch's Hours Watched increased by 50 times compared to Mixer.
Mixer has no place in this race. People just aren't interested in it. Almost all attention has gone to its rivals. In a situation where the level of uncertainty in the world is the highest. When your rivals are developing rapidly and your project stays in one place, you know it's time for changes. They've calculated the risks and chosen the conservative variant instead.
When the cult of mutual assistance, family values, friendship, and support within the community is promoted, "eviction without notice" seems rather cynical.
Although people have been given a month to deal with all the consequences, the given alternative was terrible. I'm sure Twitch will get more streamers than Facebook with no efforts. It's also important to understand that for some reason Microsoft has not used the full potential of Xbox Game Studios, Xbox Game Pass, and the launch of Xbox Series X.
A couple of examples:
1. Provide the exclusive opportunity for the largest Mixer streamers to broadcast the teasers of the new games and then skillfully merge them into socials like Twitter, Facebook, Reddit, etc.
2. Then set up an exclusive showcase of all Xbox games on Mixer. For those watching the Xbox broadcast, give Xbox Live Gold for a certain period, and for everyone else, make a giveaway of Xbox Game Pass for PC.
3. Allow the free subscription to the streamers for those who have Xbox subscription. For many foreign Twitch streamers, free Twitch Prime subscriptions conclude 70% of all revenue from Twitch. It's complicated to get a Twitch Prime subscription in the CIS region,, but you can purchase an Xbox subscription in any chain store there. So it would be a significant advantage for the development of the CIS market (It's the second country by viewers on Twitch). Mixer had the same idea with Microsoft Rewards, but the requirements were not very suitable.
4. Imagine Early Access Master Chief Collection for Mixer streamers! Streamers on Twitch are waiting for 2 days to stream the game on their channels, but at the same time Shroud, Ninja, and other streamers already beating their rivals. Early Access of all Xbox Game Studios games for Mixer streamers is the one unique advantage that was missed.
Many streamers fought for the opportunity to stream The Last of Us Part II a day earlier and those who got this chance enjoyed a significant increase in viewership statistics.
5. And the most painful thing for me is the fact that for some reason Mixer didn't buy the contracts of other streamers. If a new star or just a big streamer switched to the Mixer every week, the people would also be interested in the platform. They'd start to think seriously about the transition and would feel the potential. Maybe Microsoft had its reasons, but I am sorry that they missed that opportunity. They didn't make it, but I believe they would have.
The critique of Facebook Gaming:
1. They've highlighted Gaming as a separate product, but, for some reason, they didn't allow the creation of the Gaming sub-account, which would be used for watching the broadcasts. This would help to save the anonymity. The problem of digital footprints is important for many people. The ability to separate your interests from the public page is a necessity for many. That is why Twitch has an undeniable advantage in this matter.
2. Facebook Gaming recommendations are disgusting. Although I follow 3 specific games, the service offers me completely different content.
Have you experienced the same?
3. The maximum bitrate for the broadcast launch in FullHD 60FPS is 4000 Kbps. The number is from 2012, approximately. It's impossible to speak about any quality of the picture.
4. Streamers, who switched to Facebook Gaming don't seek to stay there. I haven't followed all the transitions, but Disguised Toast has found a way to stream on Twitch despite the exclusive Facebook contract. Pink Ward (the famous League of Legends streamer) immediately returned to Twitch after the contract expiration.
Some positive aspects: Facebook is constantly looking for new streamers to sign exclusive and non-exclusive contracts. They are always in touch with the biggest streamers of other platforms, even we have received a request to find the appropriate streamers in the CIS region.
The conclusion:
Every product in the world has its flaws that will be fixed over time. Sometimes the products are eliminated and users, who loved them, suffer. I am sure that business decisions in large companies aren't taken without certain reasons. I hope that as a result, we will see something much more viable than the dead Mixer or Facebook Gaming in their current state.