Galactus Event in Fortnite became the first special event of December. There we've spotted a new Twitch record among streamers, and the final battle with Galactus symbolized the new game season.
We've described on our new Streams Charts analytical service how and who has set the new record. You can find more info about the recent Peak Viewers Twitch record here.
Galactus Event was the final point of Marvel collaboration, so the devs decided to create the battle with Galactus in an interactive way. By the scale, you can compare the event with an in-game concert of Travis Scott in Fortnite.
TheGrefg has gathered the biggest amount of viewers among people who streamed the Galactus Event - 660,676 Peak Viewers. This is a complete Twitch streamers record at the moment.
We should note that the next three streamers in our top have reached their marks on YouTube, not on Twitch. Lazarbeam is a famous Fortnite content-maker with 17,4M subscribers. The Australian Lachlan even got his in-game event. He has 14,4M subscribers, and Typical Gamer has 10,8M. Nickmercs, one of the best Warzone Twitch-streamers, closes our top-5.
English-speaking viewers concluded the biggest part of the audience at the broadcasts. But 29,4% of Hours Watched go to Spanish-speaking viewers because of the record. German and Arabic fans also entered our top, but the streamers of these languages didn't reach the top-5 of the best streamers.
In total, Galactus Event attracted more than 2,5 million concurrent viewers. YouTube was the leader among all the platforms - 1,6 million viewers. Twitch attracted 1,2 million viewers.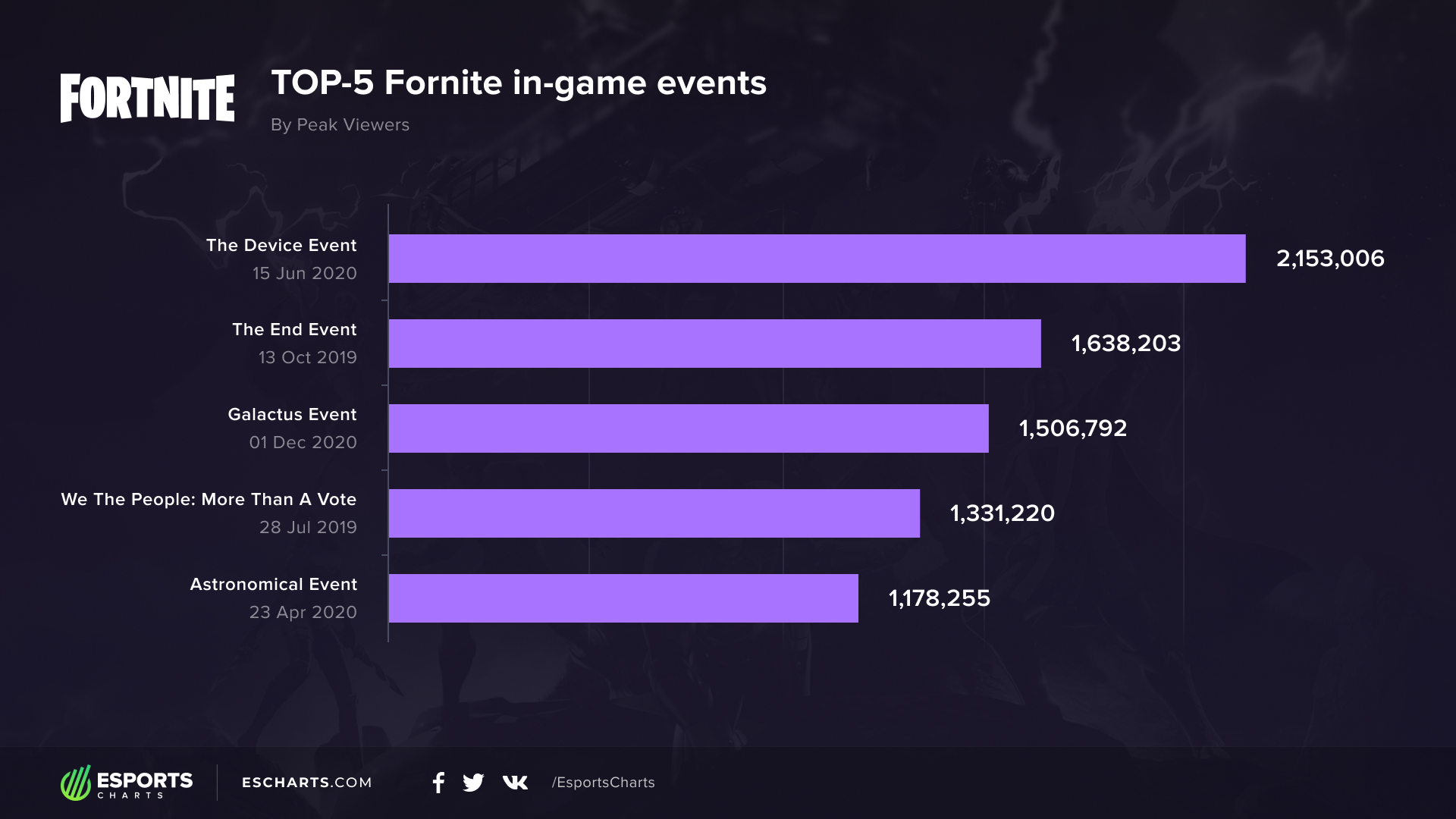 Interestingly, Galactus Event is not the most popular Fortnite event in terms of Peak Viewers, as the first place belongs to The Device Event. That event was held in June 2020 and focused on the doomsday machine.
The End Event in 2019, an interview series We The People and Travis Scott concert also appeared on the list.
Which Fortnite event did you enjoy the most? Share your opinions on our social networks and on our Discord server.