The last year was marked by an incredible debut of LEC. The competition has shown phenomenal results and even managed to improve on some of the LCS EU records. But how are the things going a year later?
In today's news we will take a look at the regular stage of the LoL European Championship. But first, let's start from a rather important moment regarding this championship. In 2020, it had to face the problems caused by the measures taken by the various governments against the impending COVID-19 pandemic. This has caused the championship to be halted for a few weeks, only to switch to the online format.
This has happened between the seventh and eighth weeks of the European tournament. Looking at the graph, it can be seen that while the championship's indicators have indeed dropped, they are still roughly at the level of the games that debuted in 2020.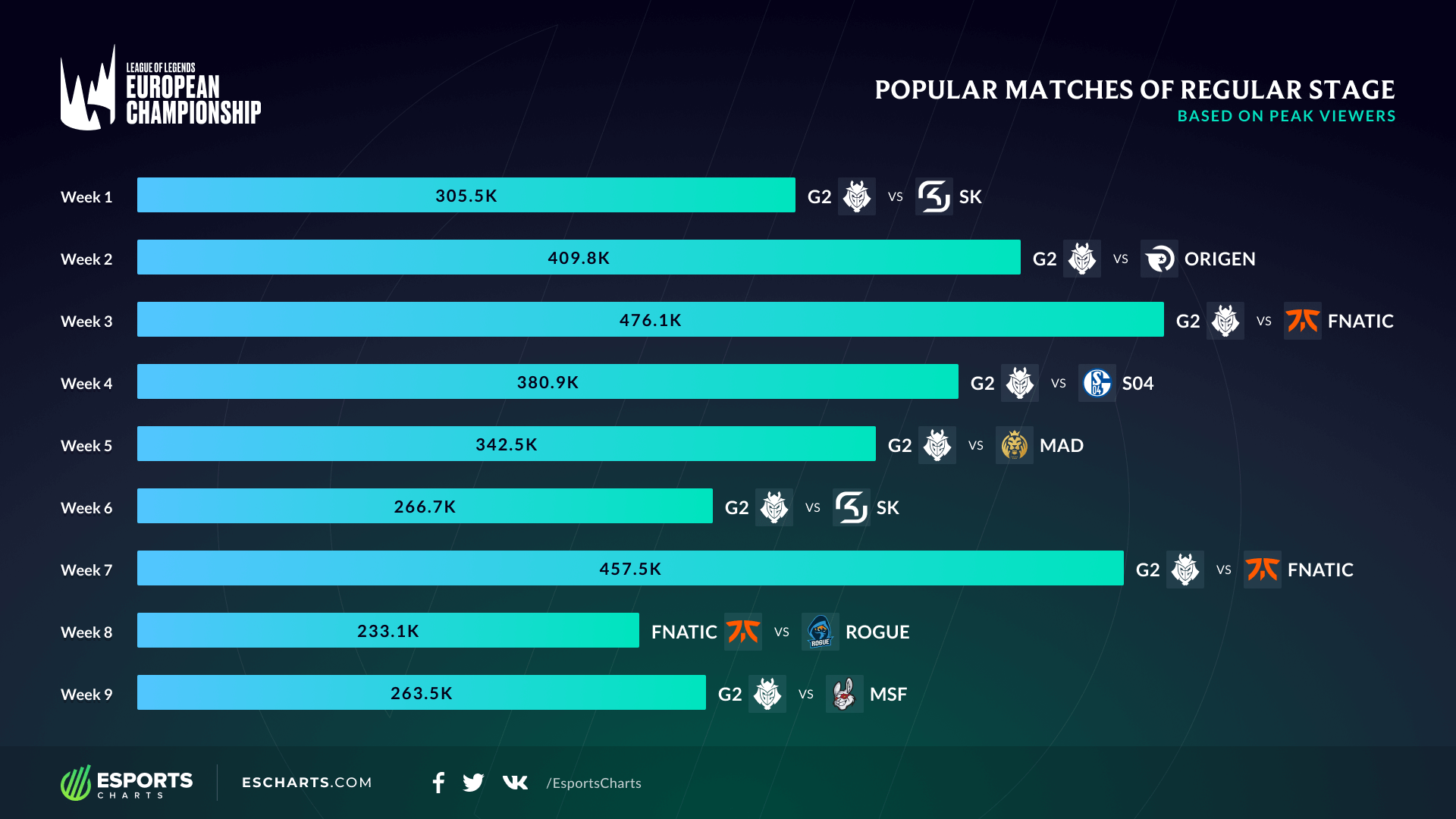 But there are more reasons for this aside of the quarantine measures and the changes in the event's format – including the especially important matches between G2 Esports and Fnatic, which are responsible for the tournament's biggest figures. This essentially means that in case the "samurai" have managed to meet face-to-face with their main rivals (Fnatic) a week later, this result would be repeated.
Talking about these two, the title of the most popular team changing hands was yet another interesting moment. Last year it was achieved by Fnatic, if just barely. However, the spring of 2020 has seen the regular stage displaying a superior performance of G2 Esports: the team's matches became the most popular in 8 out of 9 weeks of the event.
G2 Esports and Fnatic have also managed to stand out by setting a new peak viewers record for the regular stage. This season it has reached the mark of 476 thousand viewers – while the previous maximum was reached by the 2019 spring split and was equal to 397 thousand viewers.
We will inform you about the overall results of the main European championship after the event's final match that will be held on April 19th. To avoid missing this news, be sure to subscribe to our social networks and follow our blog.