TOP Female Twitch streamers in 2020 - https://streamscharts.com/news/most-popular-female-twitch-streamers-2020
We frequently discuss the most popular Twitch streamers, but no one has ever identified the most popular female representatives of the platform. Who are they? What are they streaming and who is their audience? Our top-10 of female streamers in Q3 will provide answers to these questions.
#10 — Staryuuki
Spanish streamer Elizabeth "Staryuuki" appeared on the 10th place of our top. She prefers to "just chat" with her fans at the broadcasts and loves to dance so much that she's #1 in Just Dance category on the platform.
Staryuuki is the #1 Spanish female streamer and her Hours Watched concluded 1,5M for 400 hours of Air Time in Q3 of 2020.
#9 — LuluLuvely
Lindsey dedicates almost all her time to Apex Legends. That's why she's a "queen of discipline" among female streamers. This isn't her one achievement - she is a content maker of NRG Esports.
Regarding the stats, LuluLuvely's results are superior as she climbed 12 positions up in rating since the last year and increased her Hours Watched by 460% and Peak Viewers by 288%.
Lindsey's audience faintly intersects with other female streamers from our list, and she is watched mostly by fans of today's rating leader.
#8 — itsHafu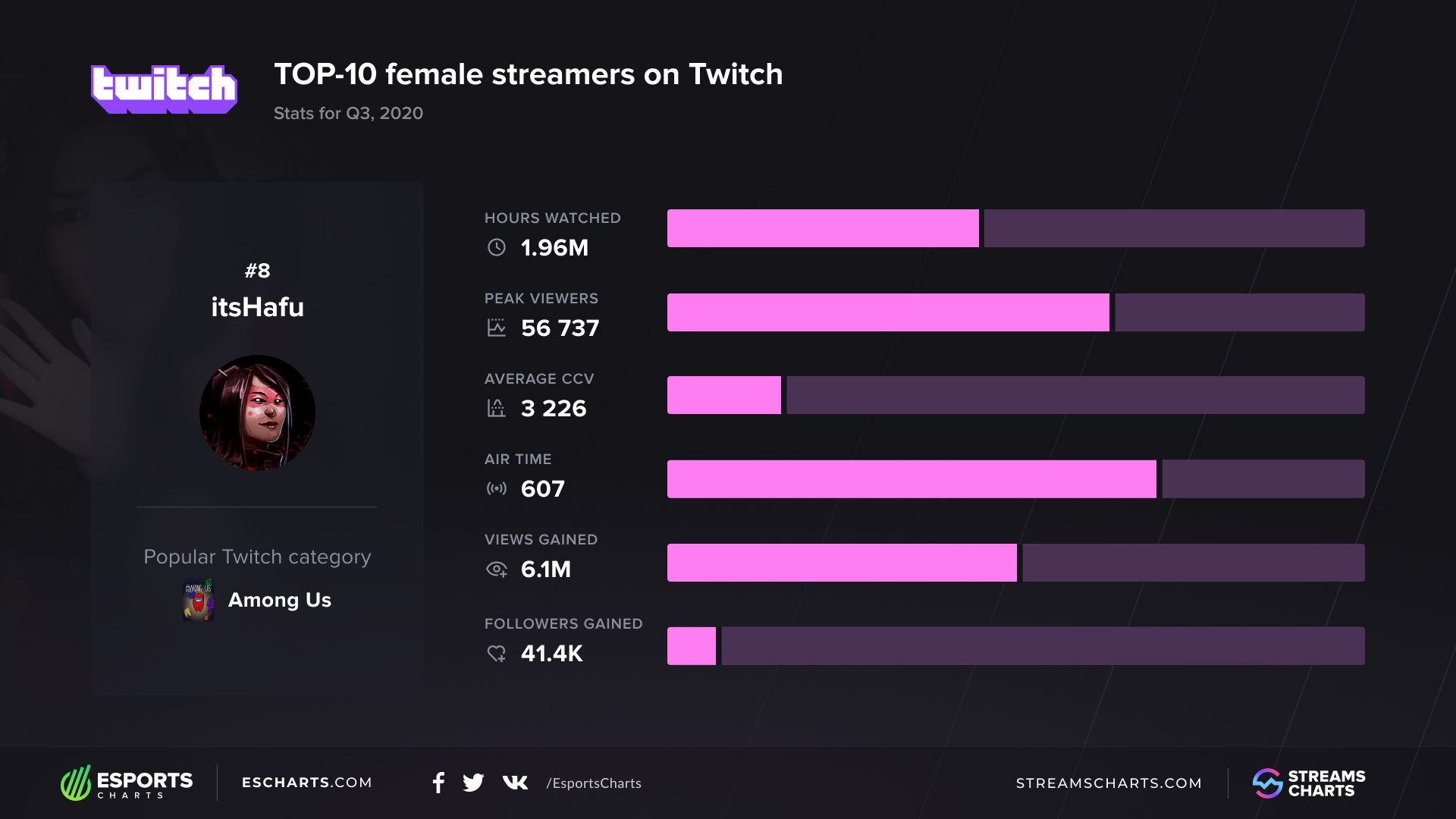 Rumay Wang from the United States is in the 8th position. The girl can boast of many achievements in gaming: for example, she was nominated for Twitch Streamer of the Year by Shorty Awards and competed for the title of "Gaming Legend" on the show by Smasher.
itsHafu started her career in World of Warcraft, but now she focuses more on Among Us and is the second in this category among females. In addition to the new Twitch hit, she is interested in playing chess and even won Chess.com Pogchamps streamer tournament.
Moreover, Hafu is known for raising the theme of women's harassment in the streaming and gaming industries and thus drew attention to the problem.
Unfortunately, Rumay gave her positions up a little, as in the 3rd quarter of 2019 she was in #1 among girls, and now she's in the 8th position with the result of 1,9M Hours Watched.
#7 — Pqueen
Pelin "Pqueen" Baynazoğlu represents Turkish female streamers. She prefers to chat with her fans in the corresponding category and achieved 937K Hours Watched in it. From game categories, Pqueen likes Fall Guys the most. Hours Watched reached the mark of 470K, and she leads by other metrics among girls in this game.
The audience of Pqueen and Staryuuki barely intersects with other girls on the list because they stream in different languages.
#6 — Amouranth
Kaitlyn "Amouranth" Siragusa is a professional cosplayer who managed to embody the characters of Lara Croft, Harley Quinn, and Wonder Woman. Her cosplays are very popular among fans, but they are not welcomed by Twitch policy, so this year the streamer has been banned two times already.
Although Kaitlyn tries different games, but Just Chatting and ASMR remain her main categories. On Amouranth's streams, users can chat with her, look at her sports activities, or spend time with her in the pool.
If we compare Kaitlyn's results with the last year, we'll see that she lost five positions, and her Hours Watched dropped by 8%.
Nevertheless, Amouranth remains the top-3 streamer among girls in "Just Chatting" category.
The audience of Amouranth poorly intersects with other streamers; only Pokimane showed a high rate. Moreover, 38% of her audience leaves the broadcasts 5 minutes after watching.
#5 — BotezLive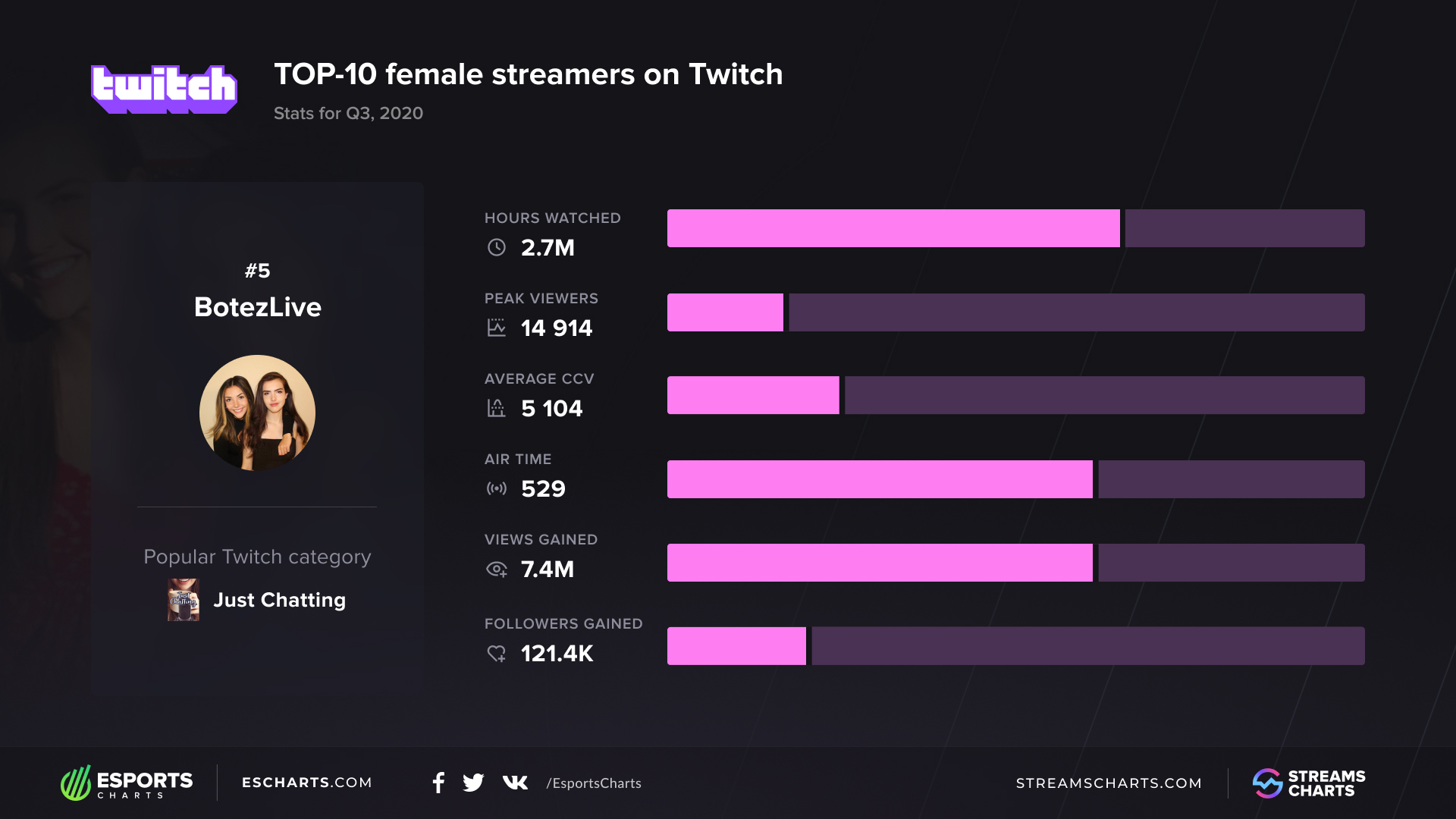 The next channel is hosted by two girls at the same time. Alexandra and Andrea Botez are sisters, and they have played chess on a competitive level since childhood. They even represented Canada at many chess championships.
Because of the coronavirus, chess players slowly went online, and Alexandra Botez now competes in tournaments and comments on them.
In Q3 of 2020, they've achieved 2,7M Hours Watched because they dedicated a lot of their time to "Just Chatting" category - 1,9M HW. If we compare their stats with Q3 of 2019, we can say that girls made a breakthrough by rising from 39 to 5 places on the list.
#4 — Lilypichu
Lilypichu stands out for her creativity and versatility: she is interested in music, drawing and cosplay. Lilypichu became famous not only for her streams but also because she was a member of OfflineTV group of content creators.
Out of all games, Lily prefers League of Legends the most. That's why she obtains a second position among female streamers of this MOBA - 760K Hours Watched.
If we talk about the audience of Lily Ki, we can say that she's the one from our rating, which covers the audience of the first place holder by 15%, and the intersection of their viewers is 55%.
#3 — 39daph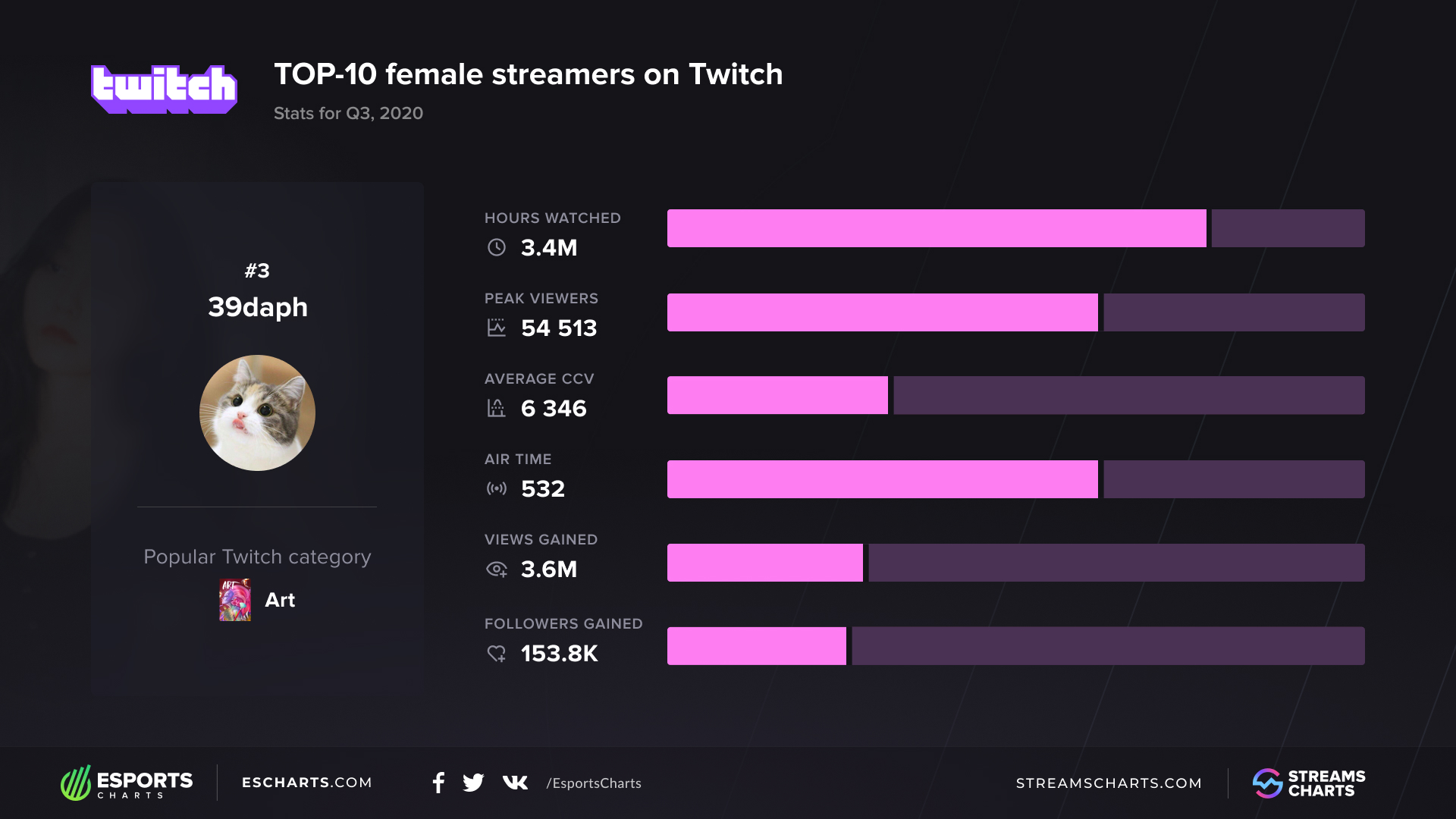 39daph is the leading streamer of "Art" category. Daphne often draws gaming fan arts on her streams, and she's a top-3 host of this category among all people on the platform.
In addition to drawing, she also tries different games on her broadcasts and Skyrim is her top-2 category. As for statistics, Daphne gained five positions compared to the 3rd quarter of 2019, and her channel's Hours Watched Increased by 248%!
Spectators stay the longest on Daphne's broadcasts compared to other streamers from the top-3 by percentage, and she has the lowest rate of viewers who leave her broadcast after five minutes of watching.
#2 — Jinnytty
The first streamer on our list who has not yet revealed her real name. Jinnytty was born in Korea but streams in English. She is the most popular streamer of "Just Chatting" category, but this year the girl has already managed to get two bans on the platform. The first one is for the transphobic comments on The Last of Us 2 streams, and the second one is for the demonstration of dangerous riding on a scooter.
Her Hours Watched growth since 2019 concluded 341%. A significant part of her audience doesn't stay at the broadcasts - 32% of viewers leave the channel after 5 minutes of watching.
#1 — Pokimane
Here is our "streaming queen." Imane Anys is an absolute leader among girls on the platform by stats.
Pokimane got extremely famous thanks to Among Us, and this is her #1 category by Hours Watched - 2M. We can see her often with Corpse Husband, Sukkyno, Valkyrae, and other participants of their cosmic squad. Apart from Among Us, Pokimane has reached 964K Hours Watched in VALORANT.
Compared to Q3 of 2019, Imane managed to climb two positions up, and her Hours Watched grew by 70%. We've analyzed Pokimane's audience intersection with other streamers, and almost 40% of viewers that watch other channels also follow Imane's streams.
34% of viewers watch Pokimane in the range of up to five minutes and then switch to other channels, but she has the highest percentage of the audience, which stays on the stream up to 15 minutes - 24%.
We've examined the most popular Twitch categories among girls and made a conclusion that all girls from our list identified aliens in Among Us, 9 of them (except LuluLuvely) kept in touch with the audience in "Just Chatting", and 8 streamers tried Fall Guys.
Want to know more about the streaming world? Check out our new analytical Streams Charts service - advanced access to detailed and up-to-date streaming statistics of Twitch / Trovo / Facebook.