We are pleased to announce a partnership with Astralis Group and today we want to tell you the story of their success.
"Stick-to-it-iveness leads to better skill and Astralis Group has proven it more than once. Over the past few years, the CS:GO team of Astralis has shown consistently high results in this discipline and even became the leader by viewership statistics in 2019. The sky is the limit!", says Artyom Odintsov, Esports Charts CEO.

"We are for the stable development of the industry, so the determination of Astralis Group and our unique analytical service together will contribute to further change and prosperity of esports market."
Astralis Group is a parent group for Astralis CS:GO Team, Origen in League of Legends and Future FC in FIFA 2020.
"The fans of all our team brands are driven by passion and so are we. The business, however, is driven by metrics and KPIs and for any commercial partnership we enter, we want to be able to document the real value for the parties involved," said Steen Laursen, VP of Comms & Brands at Astralis Group.

"The cooperation with Esports Charts will enable us to deliver an even stronger product to all stakeholders, and we look forward to working with the organization and to fully roll out the partnership internally."
Astralis was created in 2016, and already the following year, they won their first Major. After signing Emil "Magisk" Reif in 2017, Astralis began their domination on the Counter-Strike scene and in 2018, by hours watched they became the most-watched Counter-Strike team in the world by collecting 40,4M hours based on our Esports Viewership Stats for 2018.
2019 started for them with the new record. The win of the IEM Katowice Major 2019 made them the second CS:GO team in history, who won 3 Major titles. At this event, Astralis was watched by 480K average viewers and their matches collected 8M Hours Watched.
The triumph at StarLadder Major Berlin 2019 made them the first team winning a total of 4 Majors and thanks to the ever expanding Astralis fanbase they collected 8,65M Hours Watched on this event alone.
Such dominance on the pro-stage made Astralis just in one year the fifth most viewed team of 2019 with the result of 50,1 Hours Watched, including in the statistics of Team Origen, who joined the Astralis Group in 2019.
People all over the world watch the matches of Astralis Group. According to statistics for 2019, English-speaking viewers make the largest part of HW - 67,3%, followed by Russian speakers - 9,7%.
As for the streaming platforms, 81,4% of the team's Hours Watched belong to Twitch, the rest belongs to YouTube Live and Steam.tv.
The second participant of Astralis Group isTeam Origen. They've come a long way since 2014. In 2019 they've won the second place LEC 2019 Spring and became the second most popular team on the tournament. Their matches were watched by 220K viewers and they've collected 7,13M of Hours Watched.
At the end of 2019 they've changed their roster fundamentally. That's why 2020 became the year of changes for Origen and they've won the 3rd place on LEC 2020 Spring and 4th on LEC 2020 Spring Playoffs. 227K viewers watched the matches of Team Origen in average and the've collected 7,41M Hours Watched.
Future F.C. is the latest addition to Astralis Group, which was made at the end of 2019. This promising FIFA team consists of 3 players: Fatih Üstün , Roee Feldmann and Stephanie Luana.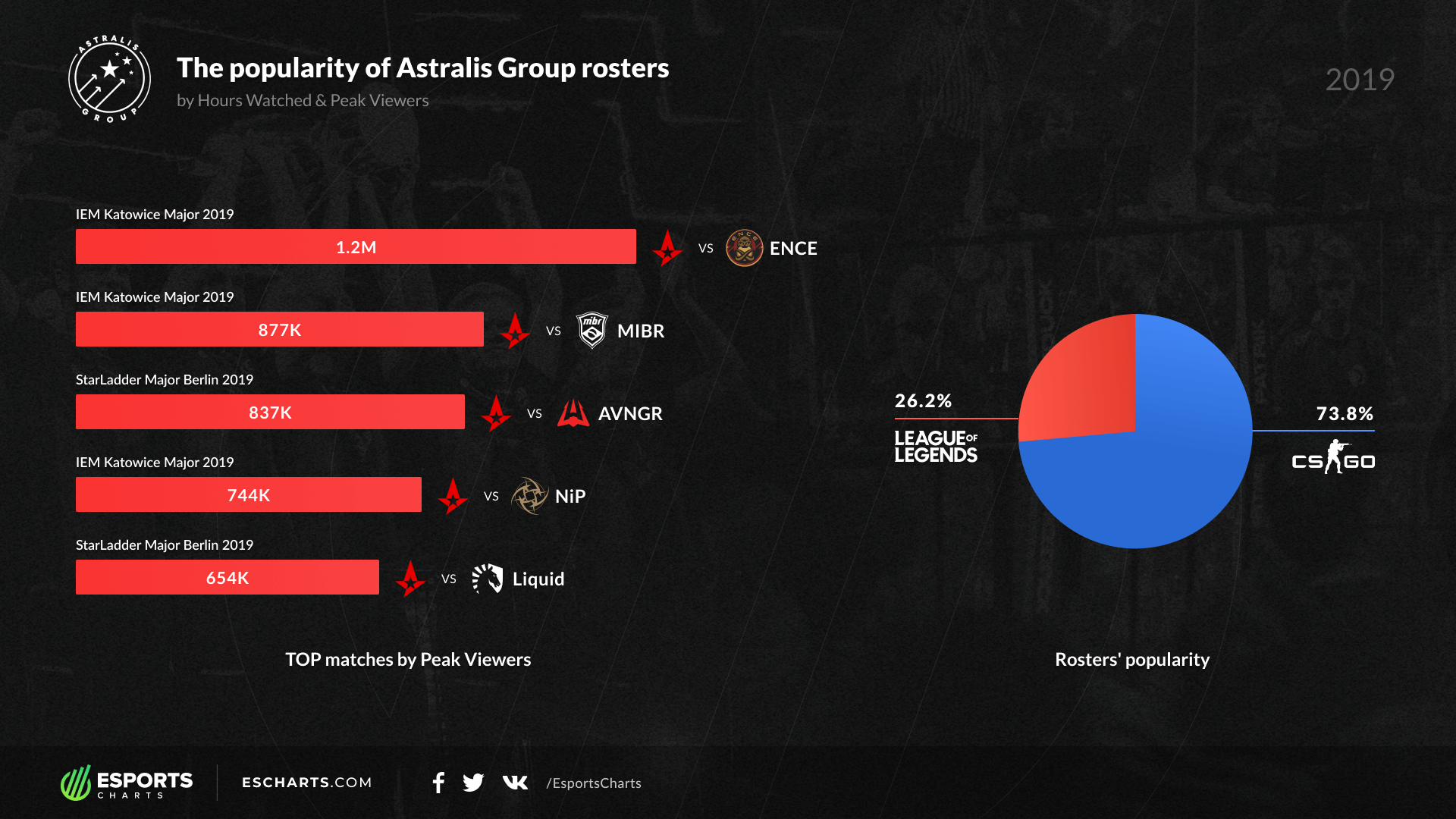 We want to help Astralis Group to develop and reach new records, so as a part of our partnership Esports Charts will provide overall and detailed analytics of Astralis, Origen and Future F.C. and up-to-date statistics about esports events. Both companies are planning to develop this cooperation and establish a long-term partnership.