— How many viewers do you have?
— 200K!
— Wow! I have 100 more!
— Nice! How much we have in total?
— 200100!!!
Riot Games have just published their own viewership statistics which doesn't correspond to the public number we've got.
No doubt, the biggest event of the year
Every year Riot Games holds two major events: the Mid-Season Invitational and The Worlds. Based on the data provided by the company in the annual report, the audience of the Mid-Season Invitational has grown almost 5 times: the Mid-Season Invitational 2017 was watched by 4.3M viewers at the peak while the same event this year was watched by 19.8M viewers. Impressive, isn't it? As for The Worlds, comparing the Finals of 2017 and 2018, they've got an increase of 43%: 57.6M and 99.6M unique viewers, respectively.

What about the fact numbers during streams?
We are working with publicly available fact data, the numbers we get directly from streaming platforms. Specifically, at the Worlds 2018, Chinese platforms were reporting the following numbers (peak concurrent viewers):
PandaTV - 110M;
ZhanqiTV - 11M;
HuyaTV - 72M;
Egame - 9M;
KingKongTV - 10M.

We have the entire historical data of numbers reported and we share corresponding graphs in our social networks: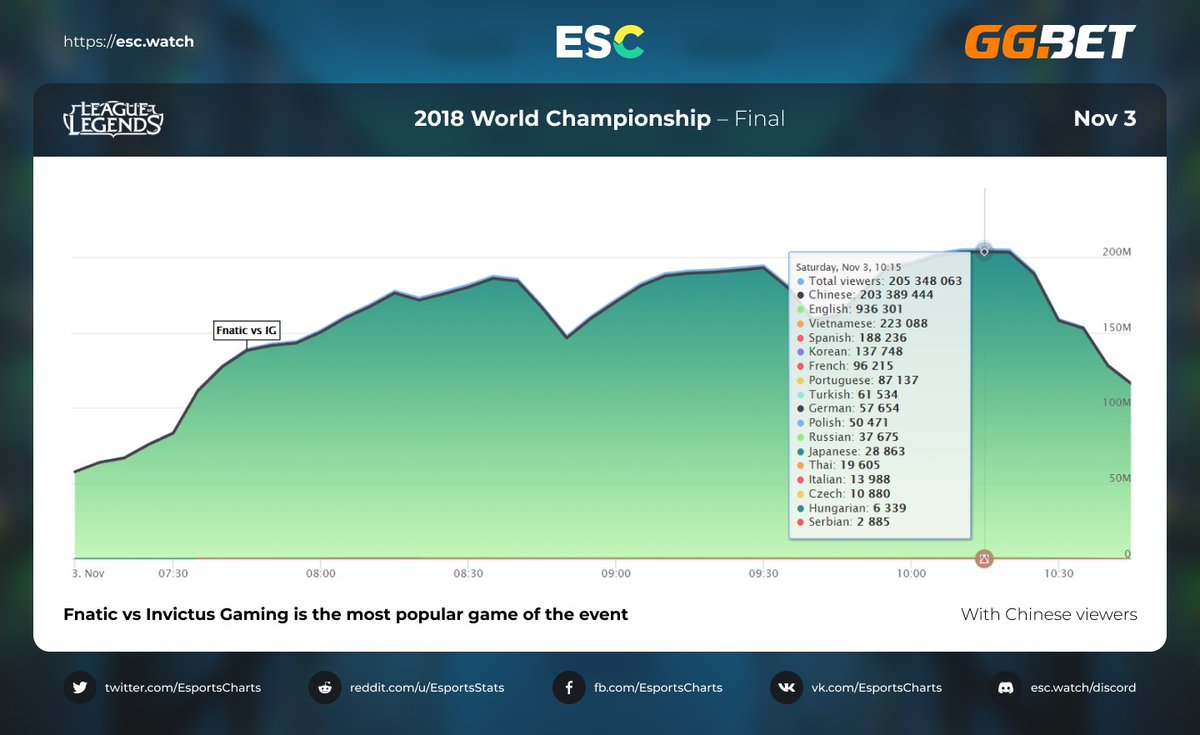 How Riot Games themselves divide the viewers by the language?
We are analyzing the popularity of games in all regions including Asia, of course. In our last article, we were talking about the fall of the Korean and Vietnamese audience at the final matches. Also, in our Worlds 2018 infographics, we have shown the peaks of all the languages and the matches in which these peaks were reached. Chinese is no exception.

Is there a delusion?
Let's not talk about botting, but try to answer the question about who the "unique viewer" is? Is that a human, personal computer or a guest session in computer club?
Riot Games probably aims to measure the audience by real human count, that's why they are publishing all statistics with a big delay. They are doing the calculations, trying to exclude all guest sessions, bots and others from the data. Obviously, it's not possible to visit every single viewer and ask him if he watched The Worlds 2018. Here comes the idea of extrapolating the interest of spectators in the stadium to potential viewers all around the region.

Meanwhile, we take indicators directly from platforms. Basically, we are operating with numbers that each platform "believes" in, and every single platform has its own definition of "unique viewer".
Usually, CDN (content delivery network) provides the platform with the "current amount of viewers" numbers. CDN's task is to simply deliver a series of two-second clips to anyone who asked. Theoretically, if CDN says "I have 200 spectator sessions at the moment", it doesn't necessarily mean those sessions are watched by 200 different viewers, it only means that the networks deliver 200 video streams. For example, Twitch with the synergy of Amazon's CDN doesn't count (or even stops) non-active streams that possibly doesn't have viewers attention, is in the closed tab. That allows to calculate the number of viewers more precisely and also save traffic. While other platforms will simply continue the broadcast, sometimes lowering the quality of the outgoing stream if it is out of focus. Other platforms might not do anything and count each open browser.
Chinese platforms can potentially be one of those.

Now imagine when it comes to computer clubs. The stream might be launched on every single PC even without a user. Would it be a stream of The Worlds 2018? Of course, it will. Every "wake up" of such a PC will start a viewing session, every banner rotation will show a new viewer. By running the session even for 0.1 seconds, you will get at least 2 seconds of the "virtual viewer", because CDN counts each viewer between watching keyframes.

Global traffic research
We are actively inviting large Internet Service Providers to participate in our research, especially Chinese companies. After all, every real viewer gets real traffic. For example, FULL HD with 60 fps is 4-5 megabits, and HD 720p for 30 frames is about 1.5 megabits. It is more than uncomfortable to watch esports in less than 480p, but even considering the Asian pretty slow internet on "auto stream settings", it is safe to say that "average traffic per viewer" should be about 1 megabit.

44 million viewers = 44 million megabits = 44 thousand gigabits. There should be at least 44 thousand servers with a gigabit connection each.
PandaTV - the Chinese platform that provided data on the maximum number of viewers - said that it was watched by 110 million viewers, which is equal to 110 terabits of traffic and almost two hundred thousand servers that deliver video to entire China.

After reviewing the data of several Chinese major Internet providers, we can easily find out the amount of traffic and where it was going and determine whether the numbers are reliable or fraud.
On this research, like on many other things, we are actively working, and we will share all results to you next year.
Keep in touch for our 2018 report and January Special Presentation for Dojo Paris event which will open up some of the data!