The rivalry for the title of the most watched Mixer streamer between Ninja and Shroud continues. In May, Tyler Blevins held his own tournament, while Grzesiek kept true to his style and continued conducting the regular broadcasts.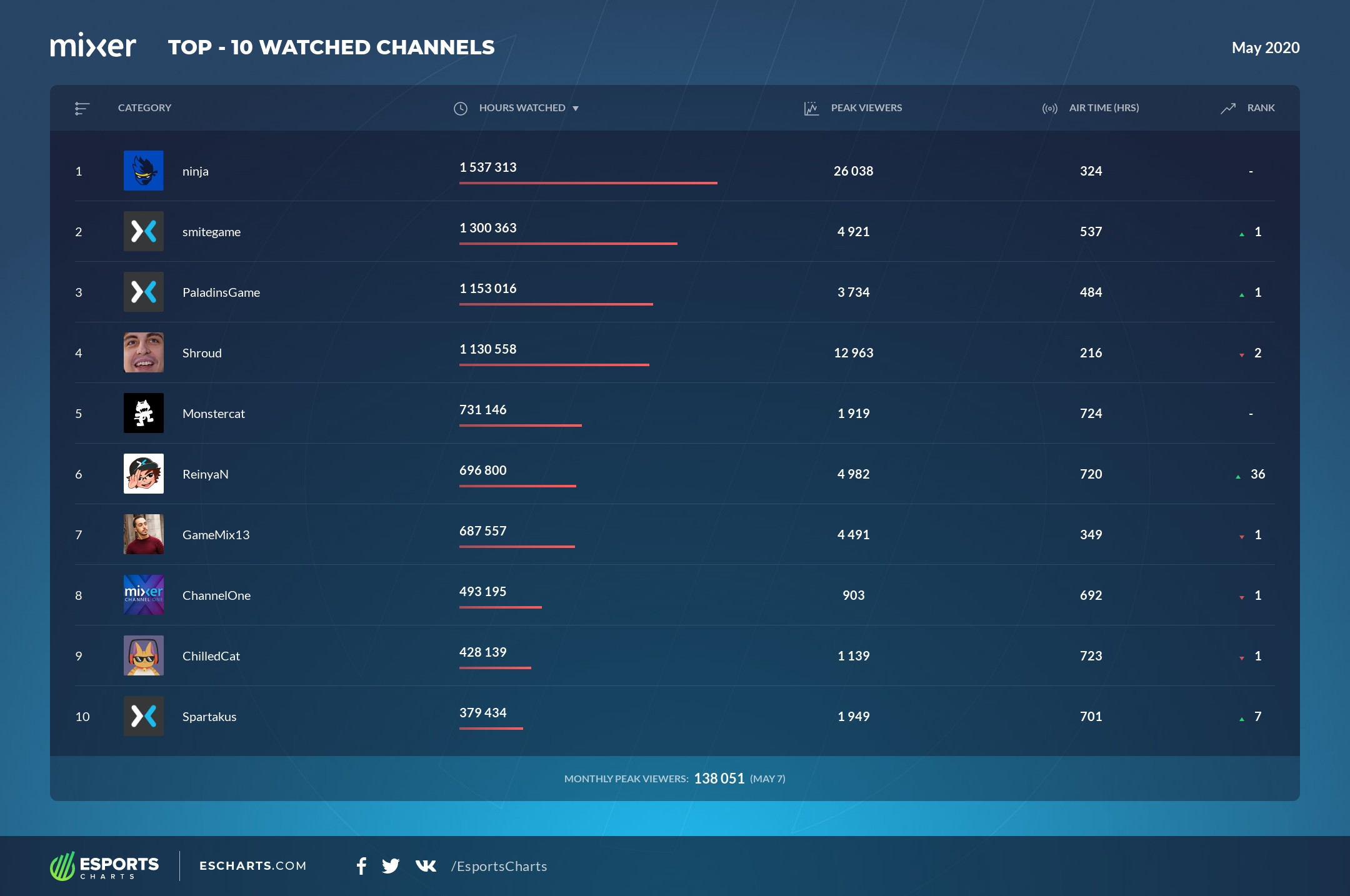 Ninja has once again become the most popular streamer of May on Mixer. So far, Tyler has been holding on to the tile of the platform's best for several months in a row, while Shroud still cannot catch up with his rival.
Last month, Blevins was reaping the benefits of his own Fortnite tournament with a prize pool of $80 thousand. He has managed to get 26 thousand peak viewers during the Thursday Ninja Battles, an event that'll be ongoing for a whole month. This is one of the platform's best indicators, of the very kind that's unreachable to Ninja since the last year's fall. It should be noted that the tournament has received the bulk of its views on Twitch – which was mostly due to the participants, most of which are the representatives of Amazon's platform.
Unlike Tyler, Shroud has shown no change in his usual plans. In May, Mike has stayed true to his traditions and continued to engage in regular broadcasts. A significant part of his airtime was spent on World of Warcraft and shooters (such as Valorant and Escape from Tarkov).
ReinyaN was an interesting newcomer to the top. His channel specializes in interactive broadcasts allowing the viewers to play games. The control and management of these activities are executed through the general voting mechanism. Overall, such an idea may be unusual for Mixer, but we've already seen this on the other platforms time and again.
The rest of the top is pretty much a repeat of the previous month. The only thing to stand out would be that, in addition to the ordinary streamers, the top features the esports broadcasts of Hi-Rez studio. As for the rest of the spots in the top, these were taken by the radio streams.