Twitch Rivals Minecraft Bingo Challenge was held on July 21-22. What is so special about the event in the most popular sandbox of the gaming industry? We'll figure it out now.

The Challenge was held in Europe and North America, and the players were divided into teams of 4. All players had to complete 20 Minecraft challenges for a certain time, and the winners were those who finished them the fastest.
The Peak Viewers in Europe concluded 337K, primarily because of the large number of popular streamers who broadcast their Challenge progress. Therefore, Europe has overtaken North America by viewers.
This time the biggest part of the audience was Spanish-speaking because one of the most popular Spanish streamers Rubius participated in the Challenge. One of the reasons is that he has an exclusive contract with the platform itself. 97K people watched his broadcast at the peak.

206K viewers in total watched the competition on Spanish broadcasts because ElRich, AlexElCapo, and TheGregFG completed the challenge along with Rubius. All of them have overtaken the official Twitch Rivals broadcast by Peak Viewers.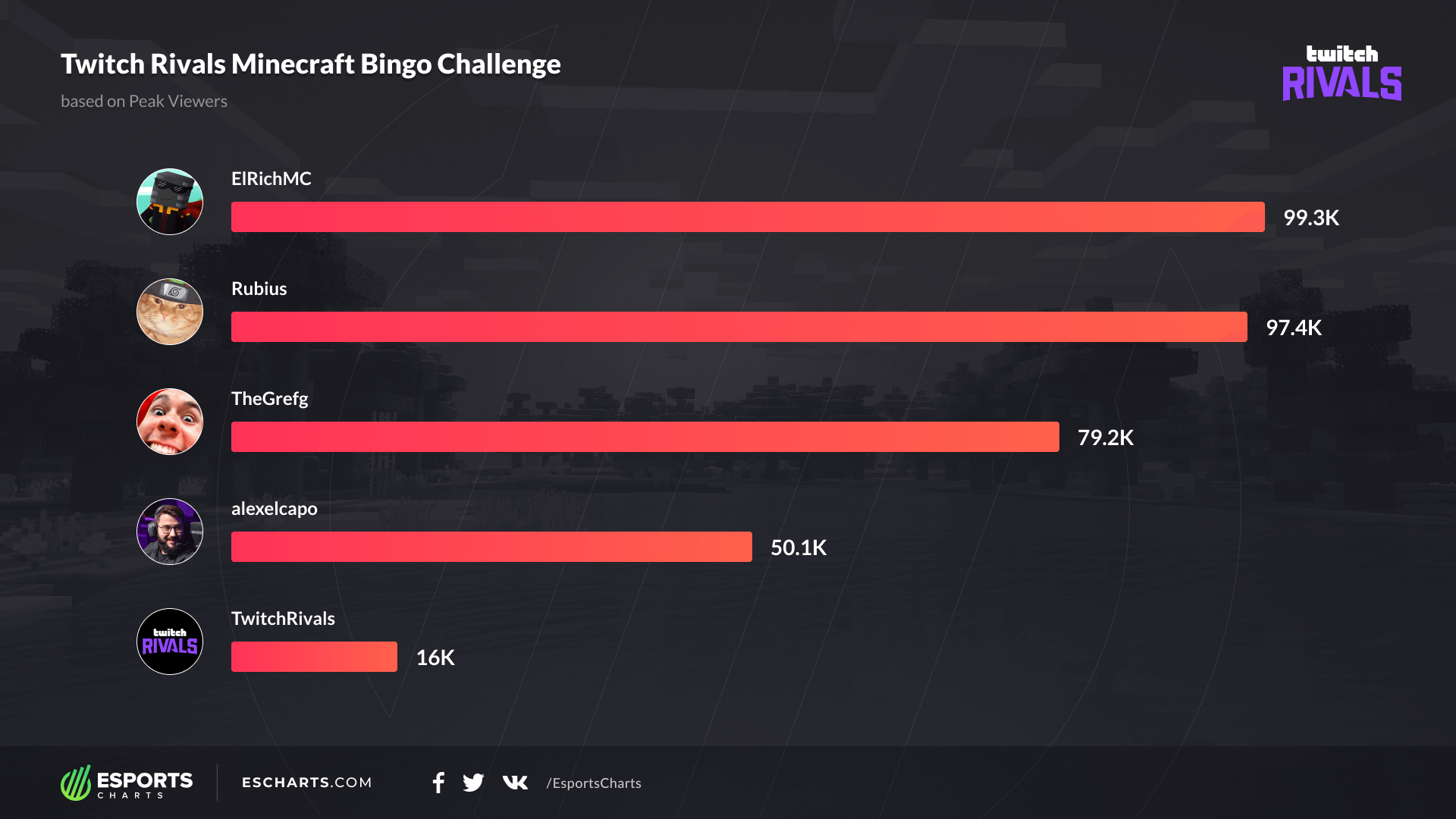 As we can see, ElRich even managed to outrun Rubius by viewers, despite their huge difference in the number of subscribers.
Official Twitch Rivals English broadcast in Europe has collected 16K viewers at the peak. It's 14% of the overall number of English-speaking viewers, who watched the competition - 110K.

Also, 18K French-speaking spectators watched the broadcast thanks to the Aypierre. Moreover, 14K German-speaking viewers also watched the event, half of which came from bastighg's streams.
15K Polish-speaking viewers came from broadcasts of ewroon and mandzio.
The winners in the European region are Veni, GTimeTV, BastiGHG, and SparkofPhoenixTV.

The North American region has collected 21K viewers at the peak, and its winners are impulseSV, TangoTekLP, cubfan135, and iJevin. The official Twitch Rivals channel in North America gathered almost half of all viewers at its peak - 11K. Both winning teams received $50,000 as the main prize.
Such excitement about Twitch Rivals Minecraft Bingo Challenge was caused primarily because of the friendly and funny atmosphere. Grefg, for example, ruined the game for his team, because he didn't know how to play, thus he accidentally killed his captain Rubius.
Have you watched Twitch Rivals Minecraft Bingo Challenge? Share your opinion on our Discord server.